The vision of Bansbach easylift® is geared towards our customers' requests, expectations, and satisfaction. We know that customers who are satisfied with the quality of our products and services will contact us again, and that our compliance with their requests and expectations is the basis for our success. Bansbach easylift® obligates itself to install, implement, cultivate, and constantly develop a management system according to DIN EN ISO 9001:2008. Moreover, Bansbach easylift® is obliged to fulfill all requirements as an admitted manufacturer according to the aircraft authorization, Part 21G, as well as of the AEO-F certification (authorized economic operator.)

Also Bansbach easylift is since 100 years in motion. Today Bansbach easylift is well-known worldwide for high-end gas springs in the premium segment. The company specialises in the production of gas springs for special uses and sophisticated application areas, such as the aviation industry or medical technology.


... highest corrosion resistance achieved
... best life cycles
... installation and storage in any piston
... low break away forces
... minimal friction for the production
... protection: vibration/ light side forces
... integrated grease chamber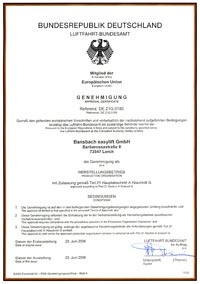 Bansbach Gas springs are manufactured out of the highest quality, environmentally friendly materials. Consistent quality is guaranteed because of diligent monitoring of raw materials, an aggressive testing program and a redundant quality control program throughout the production process. Re-ordered products are consistently produced accurately by using our technologically advanced manufacturing processes.
Also Bansbach easylift® has received certification from the German Aviation Association, making us a qualified manufacturer of components for aerospace applications according to part 21G, in addition to being the first certified gas spring manufacturer worldwide. This certification ensures that Bansbach gas springs are manufactured according to aerospace quality standards.