An alternative to the linear adjustment with Bansbach gas springs are our hydraulic systems.

With the new micro-hydraulic cylinders, high forces can be realized in a compact construction. With the standard piston diameters from 13 – 24mm and a maximum pressure of 200 bar, forces up to 9,000N can be achieved. The stroke will be individually adjusted according to the customer's requirements.

By using numerous components of the gas spring manufacturer, high flexibility and short delivery times are available

With the new Bansbach hydraulic pump, the height of a great variety of applications can be adjusted by simply pumping. The pump can be completely operated without external energy supply. The movement is effected by simply pumping. Due to the weight of the application, the reset is always controlled and can be effected by opening the valve with a movement at the lever.

We offer here also a very flexible product range which will be adapted to the characteristics of your application and therefore optimally fulfills your requirements. Please contact us!
Product Characteristics Hydraulicpump HP
Maintenance-free
Completely independent of external energy supply
Extension forces up to 10 kN
Strokes from 80 - 400 mm possible
Different connecting parts available
Operating temperature: + 10°C - + 40°C
Lowering speed customised
Overload protection
more informations

An alternative to the linear adjustment with Bansbach gas springs is our linear hydraulic actuation system. Our easymotion® system can control multiple adjustment cylinders synchronously, which is achieved by simultaneously controlling each cylinder. Whether light or heavy, this system can be fitted on any application and can be customized to fit your individual needs, including multiples per application (i.e. legs on table). Numerous Bansbach gas spring components are used in the production of the easymotion® system, maintaining our high quality standard.
Our main applications you can see in the next table:

Office workplace
Work Benches
Assembly Tables
Lecterns
Sales Counters
Mobile Workshops
There are different kinds of Cylinders. By accessing components from the Bansbach gas spring production, a large variety of cylinders can be offered. The E-Cylinder alone is not designed to absorb side forces and also requires an additional guide. A large assortment of A-Cylinder variations is available out of the gas spring production, guaranteeing our high quality components.
The A-Cylinders do not require further guiding and can be mounted directly onto moveable parts of the application. Gas spring components as well as our gas spring technology are used for this cylinder adjustment variation. The Z-Cylinder is a combination of our hydraulic adjustment cylinder and a gas traction spring. This variation allows the system to be compressed without the need of an external compression force (load). The Z-Cylinder can be installed in any position. For all our Cylinders you can order different connecting parts for piston rod and various connecting parts for cylinder.
E-Cylinders
Max. Weight 900kg per system

Stroke Length: 150mm-400mm (special strokes from 30mm up to 600mm)

Several Connecting parts
Force per E-Cylinder required to compress: 70N
Special E-Cylinder designs available upon request
more informations
A-Cylinders
Max. Weight 600kg per system
Stroke Length: 150mm - 400mm (special strokes from 30mm up to 600mm)

Force per A-Cylinder required to compress: 70N
Several Connecting parts
Special A-Cylinder designs available upon request
more informations
Z-Cylinders
No external compression force (load) required
Max. Weight 600kg per system
Stroke Length: 150mm - 400mm (special strokes from 30mm up to 800mm)
Standard Compression Force: 100N (approx 10kg)
Attention: The max load per cylinder will be reduced accordingly. Other compression forces on request.
Several Connecting parts
more informations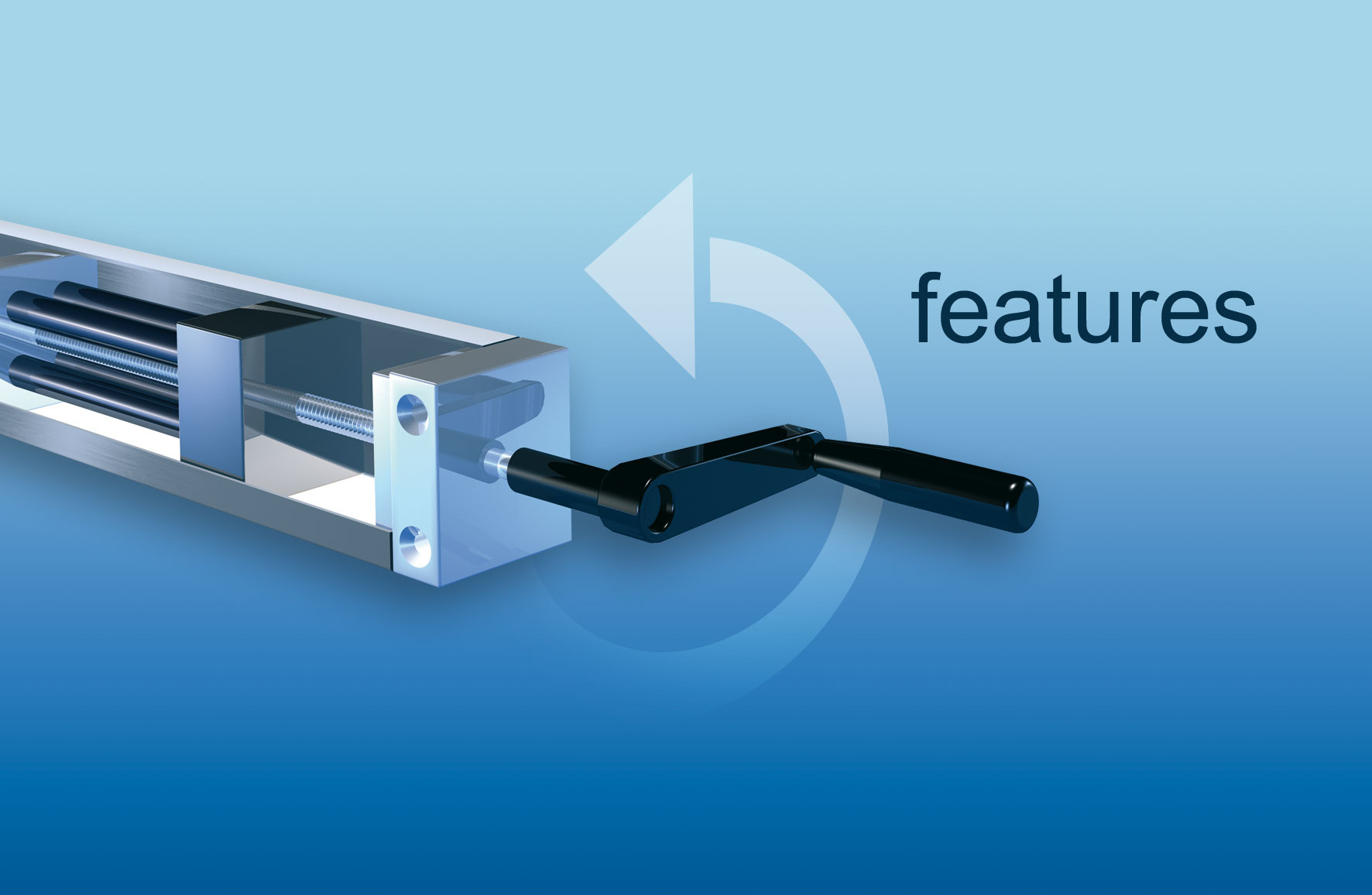 Also the next four features are really important in die easymotion system. The new Bansbach linear unit can be mounted or installed at your application without any big efforts. With the linear unit, you will get a complete system with installed adjustment cylinder. The pumps for operating easymotin® cylinders synchronously.
The Actuation will be your choice: comfortable adjustment by electric motor or adjustment 100% independent of electricity. Our easymotion® systems can be operated using either a manual crank or an electric motor (230V or 110V). An adjustment speed of up to 44mm/sec can be reached, depending on the load and the corresponding electric motor.
Due to its modular construction, the Bansbach Guide Column is extremely flexible and can be used in numerous applications without regard to the number of columns needed. Nearly all requirements can be met with the variable lengths of the traverse members offered. The piston rod, which is secured against possible rotation, offers additional security.